Constantly I find myself, despite the daily grime and disappointments of this life, surprised by joy. This blog is dedicated to embracing that joy by examining life, learning to love, seeking simplicity, living in community and blessing the God who gives and takes away.
Monday, December 20, 2010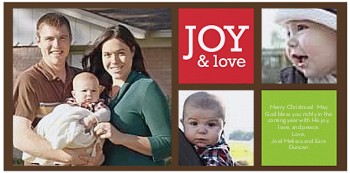 Posted by

Melissa
at 8:59 PM
No comments:


Tuesday, December 14, 2010
So, this weekend I finally obtained the Christmas spirit, ushered in by a piney fresh Christmas tree, excessive carols, time to gift-brainstorm, and some of the most delicious brownies I have ever eaten or made! It is only fair that I share the recipe with the world, especially since I managed to make them gluten, dairy, soy, egg, and nut free, as well as low sugar and low fat! Hooray! I'm really getting excited about Christmas this year, thinking about Ezra's first Christmas and how to start making things special for him, even though this year he won't remember anything, or enjoy these delicious brownies. But you will!!
Ultimate Peppermint Gnache Brownies (as adapted from
Kiss My Spatula
)
Ingredients
* 8 tbsp butter (
I use applesauce for a low-fat version
)
* 6 ounces good-quality bittersweet chocolate, broken into large chunks (
I use Theo dark chocolate:
organic, fair trade and does not contain soy or dairy
)
* 3 eggs (
I find ENER G gluten-free egg replacer to be the best for baking
)
* 1 cup sugar (
I use maple syrup for a reduced-sugar version
)
* 3/4 tbsp vanilla
* 1/4 teaspoon salt
* 3/4 cup all purpose flour (
There are many gluten-free flour mixes there. Any all-purpose mix will
do, or you can make your own. I've done both, currently I'm using Better Batter which has a very
unobtrusive flavor, unlike many gf mixes
)
* 1/4 cup cocoa powder
* 1/2 tsp baking powder
* 40 or more Starlight mints (
I have not tried this with candy canes, but I intend to after recently
discovering Tru Sweets candy canes, which are seriously THE BEST candy canes I have ever
tasted. This is saying something, since I consider myself somewhat of a candy cane connoisseur.
Tru Sweets uses all natural ingredients, no artificial flavors or coloring, no corn syrup, is gluten
free and kosher. Happy Hanukkah!
)
* 1/3 pound semisweet chocolate, chopped (
I use Enjoy Life chocolate chips, free of all 8 major
allergens and still taste good!)
* 3/4 cup whipping cream (
Try Native Forest Organic Coconut Milk, classic for a non-dairy version.
Changes the flavor slightly, but not in a bad way, and captures the right consistency in a way
many imitations do not.)
Directions:
Preheat oven to 350°. Grease a 9×13 inch baking pan. In a medium saucepan, stir butter and bittersweet
chocolate over very low heat with a heatproof rubber spatula until just melted--do not let simmer or boil. Remove from heat and let cool slightly, about 5 minutes. In a large bowl, whisk eggs, sugar, vanilla, and salt. Slowly pour chocolate-butter mix into egg mix, whisking constantly. In separate bowl, sift flour, cocoa powder, and baking powder. With a clean rubber spatula, gently fold flour mixture into egg mixture until just combined. Spread batter evenly in baking pan. Bake 20 to 25 minutes, or until brownies are firm, beginning to pull away from sides of pan, and a toothpick inserted in center emerges with only a few crumbs clinging to it. Let brownies cool completely in the pan on a wire rack.
Reduce oven temp to 300°. Line a level, rimmed 11 1/2×16 inch baking sheet with parchment. With a pencil, draw a grid of 1 1/2 inch squares on parchment, leaving about a 1 inch border, and turn parchment over. Place a mint in the center of each square. Bake 15 to 25 minutes, or until completely melted into 1 large sheet, but remove before candy begins to turn yellow.
Immediately
score peppermint squares with a pizza cutter, using pencil lines as your guide. If scored lines don't hold, rescore quickly. Let candy cool completely. Gently break into squares along score lines. (You may want to make a test batch with 12 mints to see if you need to adjust oven temperature or spacing of candies).
In the top of a double boiler, combine chopped semisweet chocolate and whipping cream. Cook, stirring often, until melted and blended (
In the case of coconut milk, allow it to cook on low until slightly thickened)
. Remove from heat and let ganache cool until just warm. Pour ganache over cooled brownies in pan and allow to set until firm, about 1 hour in the refrigerator.
Place peppermint squares bottom side up on ganache, leaving enough room between squares to cut brownies. Cut brownies into squares along edges of peppermint tops, wiping knife clean between cuts. Remove brownies from pan, eats scraps, and return brownies to pan. Cover with plastic wrap, making sure wrap does not touch peppermint, and refrigerate 3 hours (candy will soften slightly). Share at any holiday gathering--these will go fast!!
Posted by

Melissa
at 9:24 PM
3 comments: